March 1, 2010: Nepo house show recap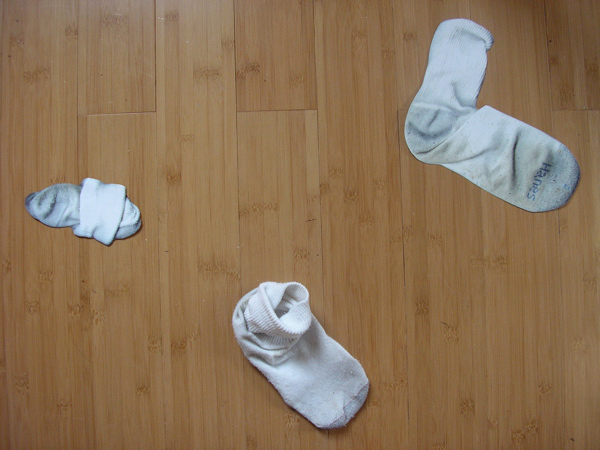 Kenneth Shaw, Matthew Offenbacher, Natalie Campbell, Heidi Neilson, Liz Zanis, Carissa Carman, Glenn Herlihy, David Lasky, Erin Shafkind, Dave Smith, Bellen Drake, Jason Hirata, Kim Haworth, Serrah Russell, Jennifer Dixon, Janel Twogood, Rumi Koshino, Blake Hotchkiss, Mark Callen, Dan Webb and an objectified guest Stefan Knorr.

curated and contributed to by yours truly with great help from partner and collaborator Scott Hotchkiss
First of all thanks to everyone who came and many thanks to all the artists that participated and helped to make Nepo idea a reality. And what a great reality - I know I am tooting my own horn when I say this, but I think the show is pretty amazing.
Working with so many creative people was really (challenging and) great. No seriously, it was one of the best things that happened to me in a while. I really enjoyed the collaboration - your help is what kept me going in the last few days before the show (otherwise I might have pronounced myself too crazy and thrown in a towel).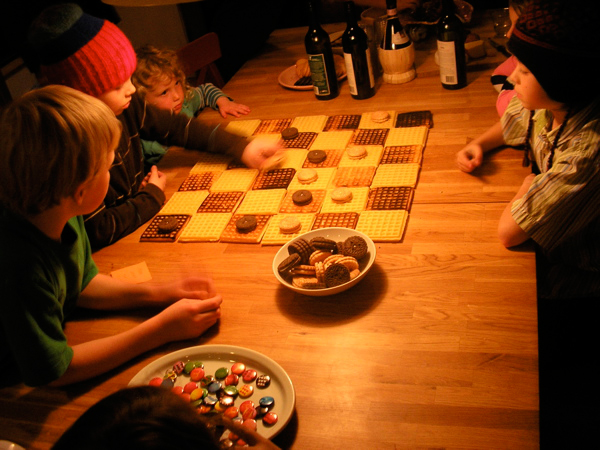 And once again we had a great party. The Purple Polka Dots actually played! - they played kickball and a few awesome songs: Purple Elephant, Coke and Bacon, and Where is the White Tape (or similar). I will post the pictures of the band playing when I get them. They also seemed to enjoy playing burned waffle/oreo checkers. The rules clearly stated: "You jump, you eat!" and the kids didn't need much prompting.
I cannot guarantee anything that was said, but if you were fortunate enough you got a Docent tour or a poem. I'm not sure which was better, but I witnessed one poem (A True Account of Talking To The Sun At Fire Island" by Frank O'Hara) recited by Quisp in the bathroom upstairs and it was beautiful and awesome. Thanks Seanjohn!
Among other personal highlights is that the next morning I got to wake up in a gallery (I like looking at beautiful panties much more than closet stuffed with clothes I haven't worn in years). As a matter of fact I will get to do that for another couple of weeks - we will keep the show up, so if you missed it you can still come see it. We will be open next Saturday March 6th, 4 - 8 pm and by appointment.
And now, I will give you a tour of Nepo show. Follow me (if you can) ----->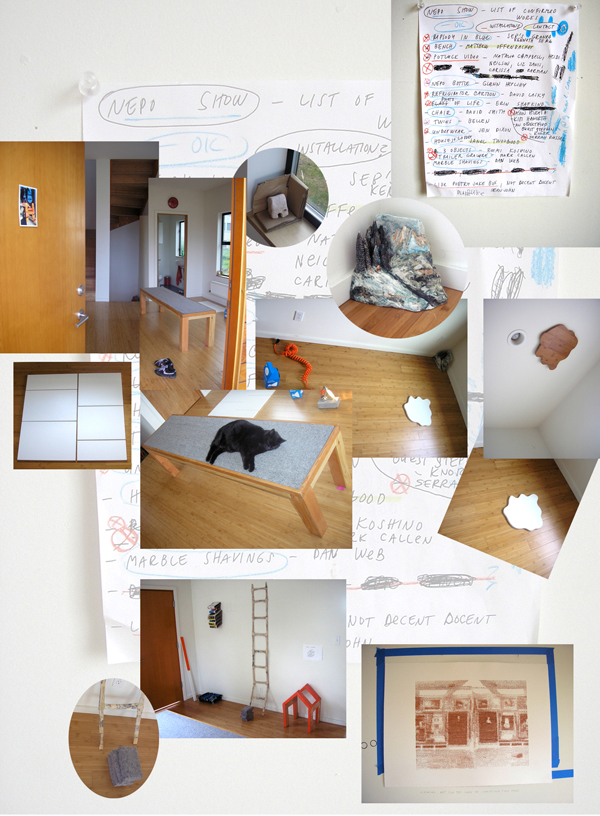 From top clockwise: entry room with bench by Matthew Offenbacher, small clay house by Janel Twogood, mountain with skier by Rumi Koshino (hint: take a note of a small blue painting in the living room), under that is - illuminating (literally) sculpture by Jason Hirata, to the left - reflection puddle, below - Viewing art (in the home of Charles and Emma Frye), opposite wall with ladder by Janel Twogood, felt bricks by Matthew Offenbacher, orange Nepo house,335 feet of chaos and a dip stick, going back up - our cat Pluto really likes the bench (there is something about Matt and cats), and last but not least my modernist ikea kitchen cabinet door sculpture (which I had to rebuild about fifty times during the evening since everyone kicked it going to the bathroom).

View of Nepo living from an excellent chair by Dave Smith - beautiful and equipped with build in lap top shelf (I am sitting in it as I write this - got to saver every moment it is in our house!) - chair image below.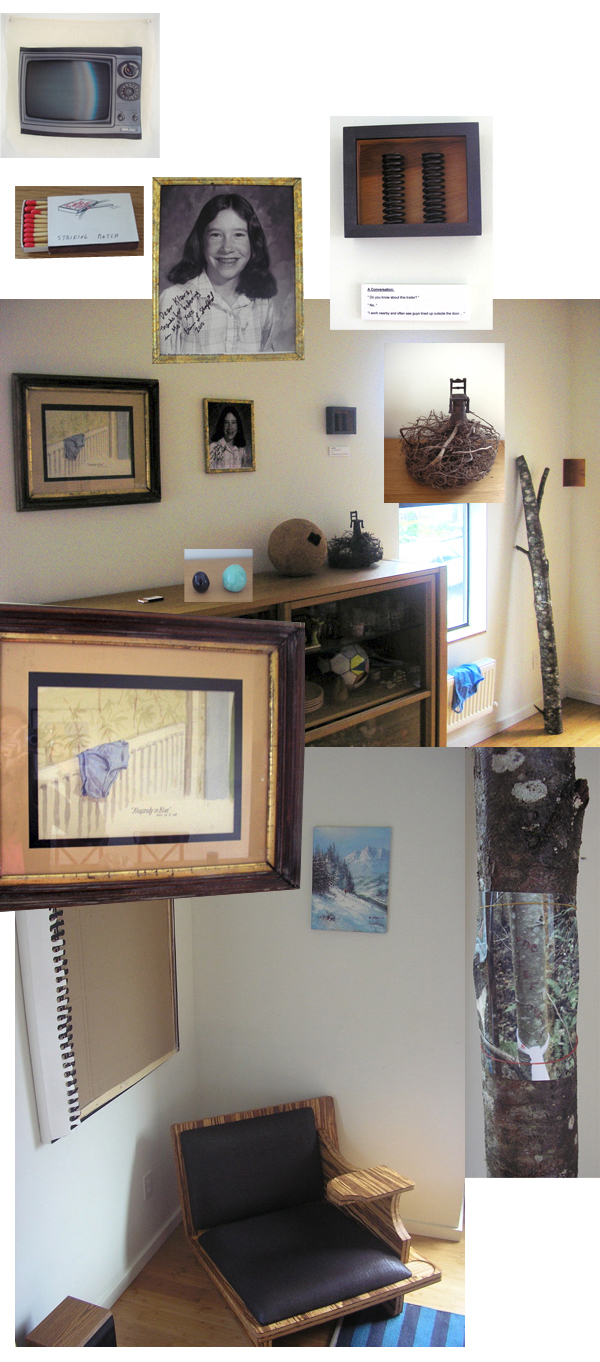 Here we go again from the top: flat screen TV (every household should have one), striking match (a match box commemorating one of the themes of Nepo show), Dear Klara, thanks for believing in me - signed by Erin Shafkind, bed springs (A Conversation: "Do you know about this trailer?" "No" "I work nearby and often see guys lined up outside the door ...") by Mark Callen - hm, it must be about another kind of nepo house, root chair by Jennifer Dixon, one left over (a video that goes along with this piece is posted below), chair by Dave Smith from
Ingrain Furniture
, Rapsody in Blue by Kenneth Shaw (1913 - 2004, he was Seb's grandpa who lived in Shropshire in England and painted everyday domestic objects - take a note of our radiator), back by popular demand is egg shaker by Kim Haworth this time with shiny black companion piece. Lots of things seemed to come in twos - it is our second show you know.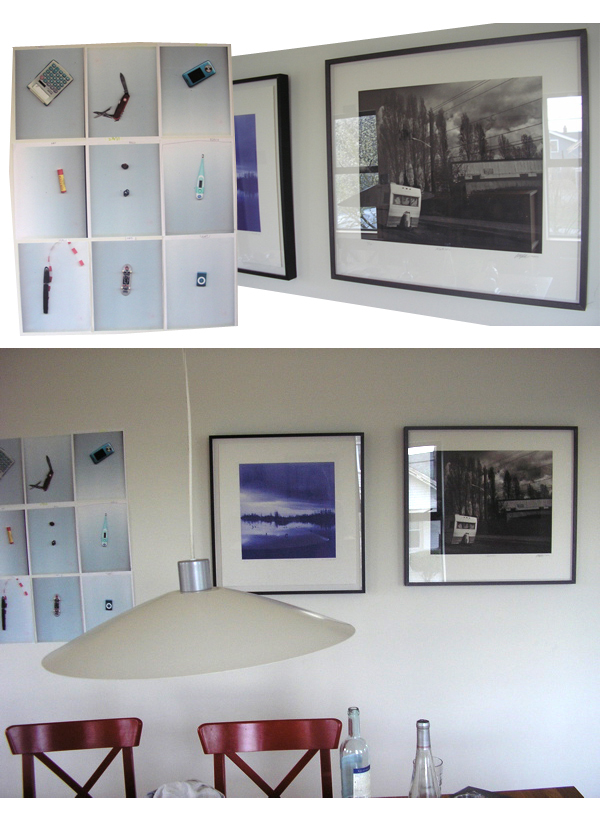 Photogravure by Mark Callen of
Infinity Gravure
(connect the trailer with the bed spring sculpture on the opposite wall and make your own conclusions), awesome scanned objects by Blake Hotchkiss (I discovered there are several fans of scanning objects among us - Blake and Rumi we should start a fan page).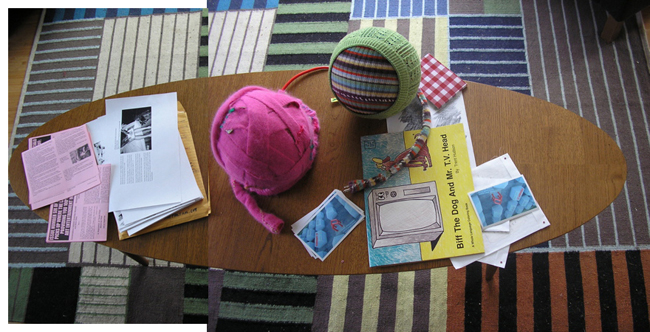 Our coffee table contains all sorts of literature and written content relevant to our show: Talking cure - a brand new art publication from the bay area, their first issue titled "Being Home in Time" came out last November and you can read it at
artpractical.com
, SP Potluck Project book (a companion piece to the SP Potluck video projection in the kitchen), Biff The Dog and Mr.T.V. Head, rubbing of Thirteen Ways of Looking at a Blackbird by Wallace Stevens, a transcription of the underwear text and several copies of brand new ISSUE NUMBER SIX OF LA NORDA SPECIALO.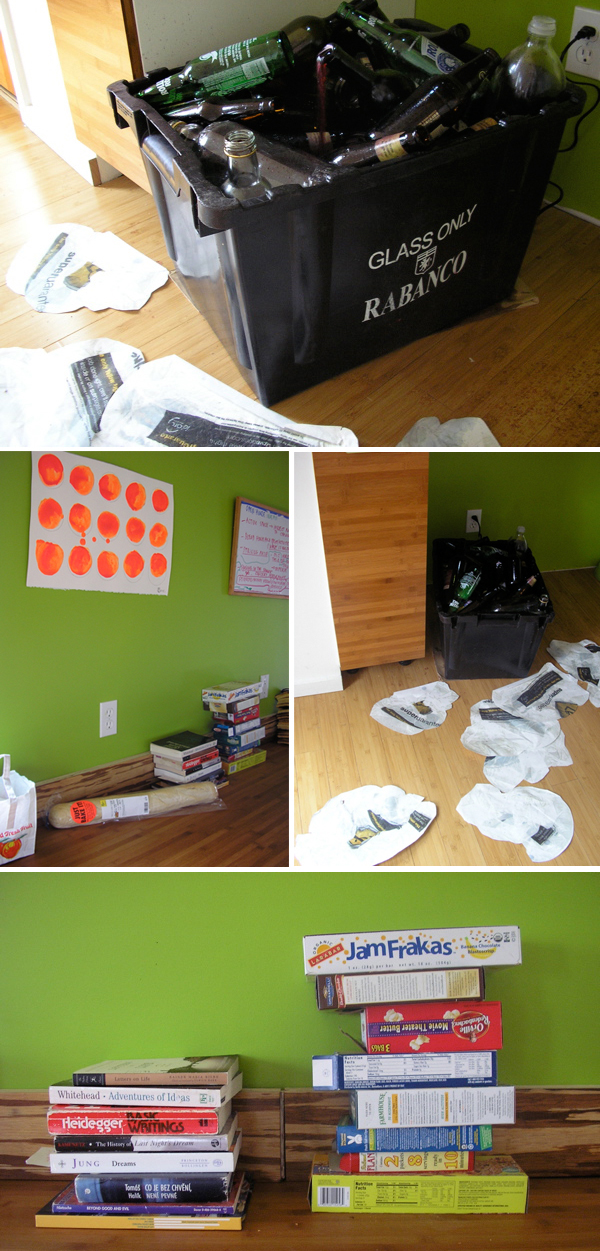 Moving into the kitchen: if you look under our kitchen counter you will find a perpetually spilling bottle of red wine in a recycling bin - this amazing contraption is called Nepo Bottle and was made by Glenn Herlihy, flanked by copies of plastic bags by Rumi Koshino (someone said the bags made them think there is something wrong with their spacial vision - they figured it out when they saw the socks upstairs), above the counter is Just Bake it QFC piece by Rumi and (almost) matching stacks of nourishment for mind and body.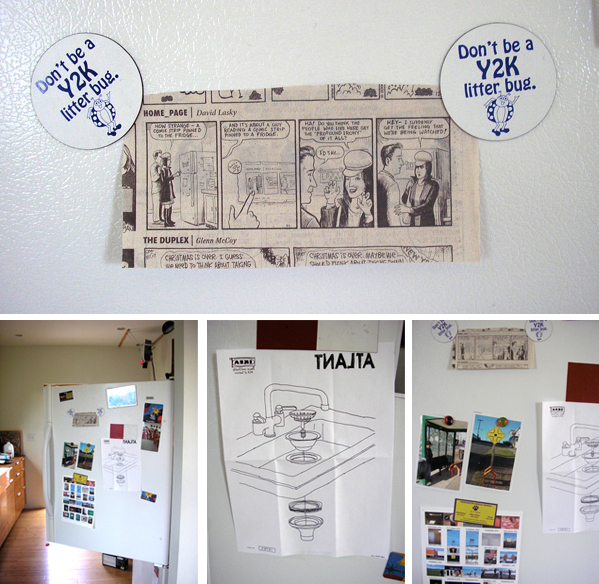 on the fridge we have some awesome artwork: HOME_PAGE cartoon by David Lasky (make sure to read that one!) and a backwards drawing of Ikea sink install manual by Jason Hirata.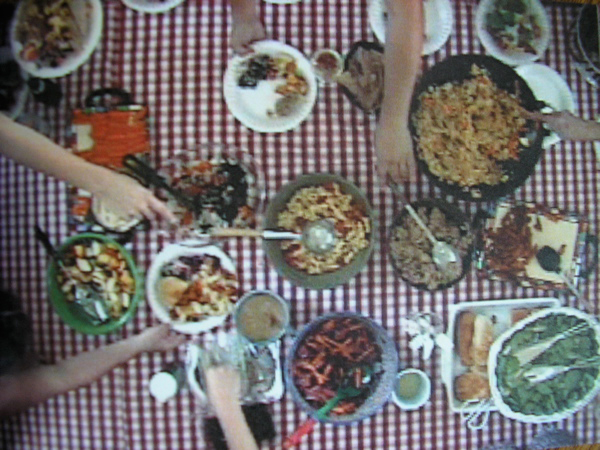 another great piece of art can be found on the kitchen counter - it's a video projection called SP Potluck Project - collaboration by Natalie Campbell, Heidi Neilson, Liz Zanis, Carissa Carman - four artist from NY. You can see video and learn more about their work
>here
.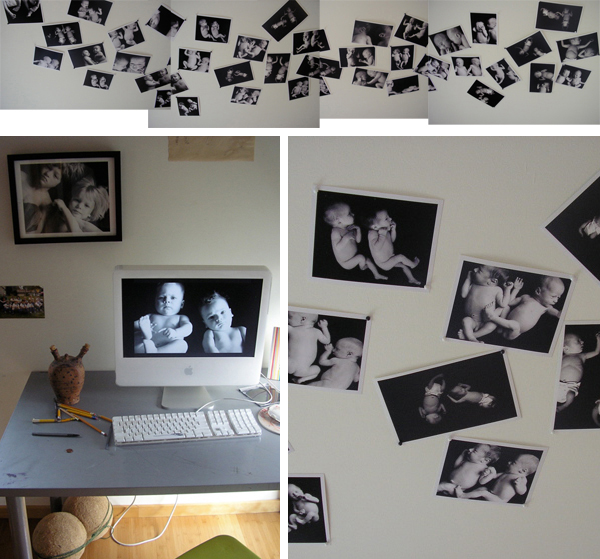 Now going upstairs: in Sidney's room are newborn twins - photo and video installation by Bellen Drake (honestly, they look like they haven't arrived on earth yet!)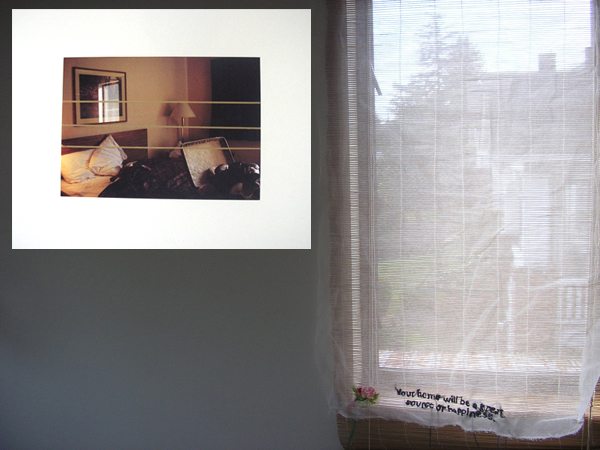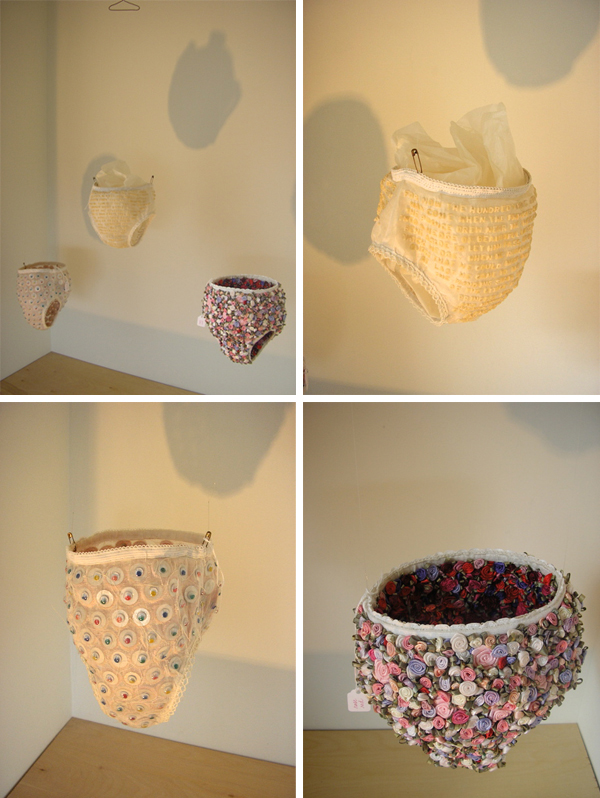 in our bedroom: (if you actually dare to go in) you will discover Waiting for Transport - print by Serrah Russell, and an installation of three beautiful fairy tale panties by Jennifer Dixon in our closet.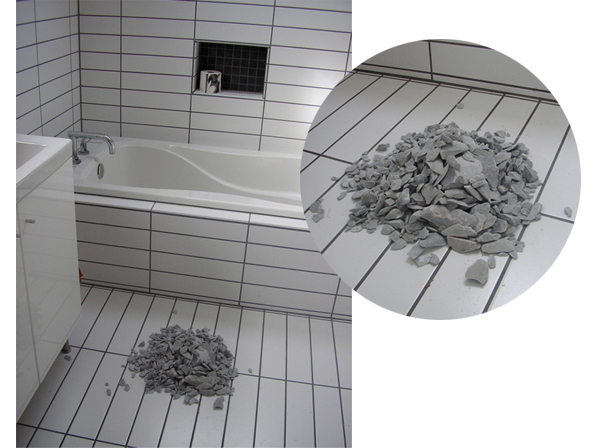 now it is just a step from there to the bathroom which is featuring Master Carver Shaving - an installation by Dan Webb (and yes, those are marble chunks - I will take a guess that they are a bi-product of Double Knot or Stone Fly)
in the main space upstairs runs a projection of
one left over ...

(the basis of the art is the sun and its shadow)
I will close the tour with a picture of Purple Polka Dots playing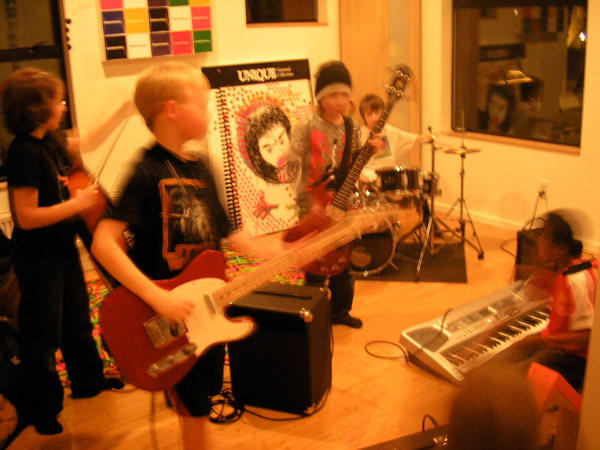 and a picture of Entropy in the stairwell - now renamed Colecting Dust.
Is this what happens to all the artwork? I think so, eventually. Unless someone dusts it off...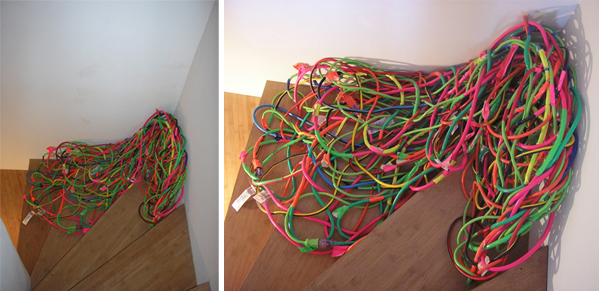 ...if you haven't yet, come see the show before the dust settles. Nepo is open next Saturday March 6th, 4-6 pm
goodbye, and see you next time!
klara
--------------------------------------------------------------------------
March 7, 2010: Nepo on Slog
... and update about second showing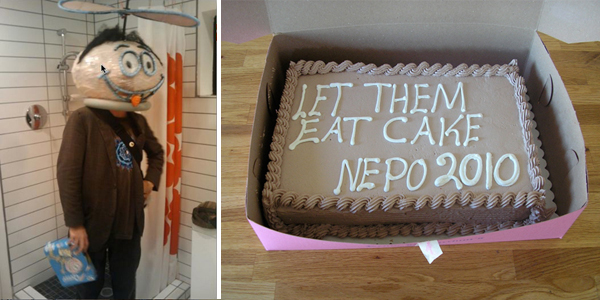 You can now read Nepo review by Jen Graves on Stranger's Slog
Last weekend there were a few minor changes to the show: some welcomed and some less. Among the welcomed additions was a cake our friend Seb brought over - thanks Seb it was Remolitious! We even convinced few visitors to eat it before dinner - you know at Nepo most everything is backwards.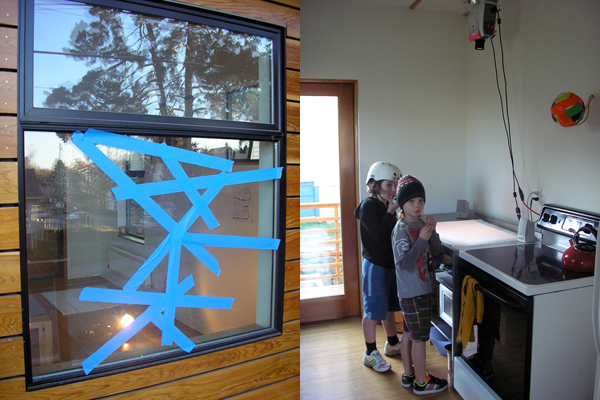 The broken window in the entry room falls into the not-so-welcomed-change category (here are the suspects, pretending that nothing happened).
A few new projection pics: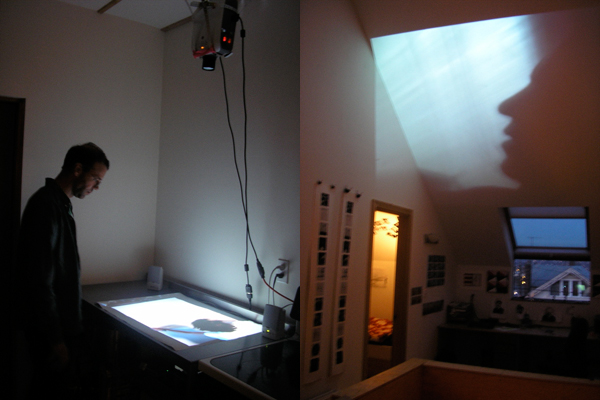 Thanks to all that came and two-times-thanks to those that came twice and brought their friends! It was a much quieter evening, easier to see all the art in nooks and crannies.
Bye Nepo Two. Stay tuned - Nepo 3 coming up in June (we are a seasonal outfit).
xok and team
-------------------------------------------------------------------------------------
Open Hou?e: Nepo >>>>FEBRUARY 27, 2010
Save the date and come knock on our door: You are invited to the next installment of home_page.project:
Open Hou?e : Nepo
(A HUMOROUS APPROACH TO THE SERIOUS ART OF LIVING)
February 27th 2010, 6:00 pm - 11:00 pm
1723 S Lander Street
Seattle WA 98144
Please come curious and prepared to use you investigative skills. Expect a homespun, high-end affair: a visual experience perched on the threshold of spontaneous creative experience and perfected mastery. Among our auditory attractions will be Live Poetry Juke Box and The Purple Dots, a five piece band of eight-year-olds (band name is subject to change). Not Decent Docent will be available for those needing a little interpretative help.
XO Nepo team - see you at Nepo House!
-------------------------------------------------------------------------------------