--------------------------------------------------------------
read newer posts here
____________________________________________________________
February 8 2010 - Fresh off the press: Interview in AvaLiving.com
Read about home_page.project in a recent
article by Ehren Seeland
continue reading here...
-------------------------------------------------------------------------------------
JANUARY 8 2010! - coming up : pu gnimoc
put on your TOP HEAD
and come to our house for a second Open House planning meeting. If you want to participate in the Open House show at the end of February this is your chance to see the spACE!
What: OPEN HOUSE planning and brainstorming meeting
When: Friday January 8th, 6pm
Where: 1723 S Lander Street, Beacon Hill, Seattle
p.s. Happy 2010 everyone!!!
_____________________________________________________________________________________
JANUARY 3 2010 - in the news : we are in the news!
Happy new year! Bond Huberman wrote a very nice article about home_page.project in City Arts magazine. Pick up the January issue and read all about it. :)
_____________________________________________________________________________________
Later that day: December 16 2009
this is what truly happened:
hordes of little orange people invaded our tea party and ate what was left of the cookie-cutter houses!
_____________________________________________________________________________________
INVITATION: First Open House Meeting
when: Wednesday Dec 16th, 6:00 pm
on the agenda: Bake your own house and Eat it too.
BYOS: bring your own sprinkles

see map for directions: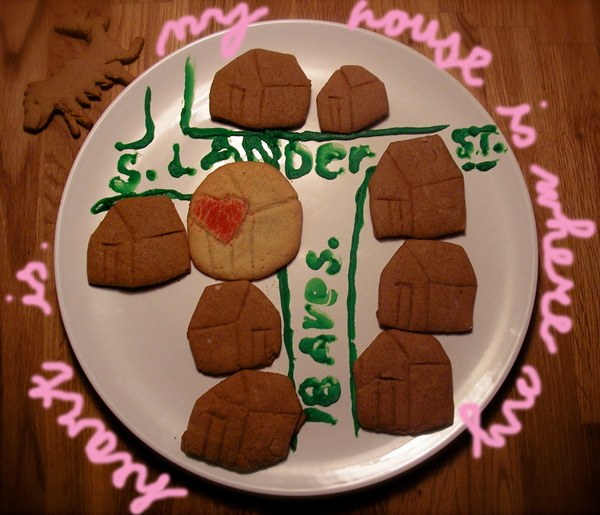 _____________________________________________________________________________________
DECEMBER 10 2009 - Call for Artists: Next Show: Open House
Next show coming up at home_page.project is titled Open House. Even though some helpful dictionary definitions are provided below the title of this show is open to interpretation. Please help to bring it into high-resolution focus by submitting your artwork, ideas, creations and images.
If you would like to participate in this show please come to our First Open House meeting at my house on Wednesday December 16th 6:00 pm. You are invited to stop by for a chat, cup of tea and maybe some holiday cookies. (I was going to call it a Tea Party - but decided against it since it might attract the wrong crowd these days!). If you cannot make it because of general holiday overload - there will be another chance the Second Open House meeting will be on Friday January 8th, 6:00 pm. If you cannot attend either but would like to be part of the show please email: klara-at-pictureband.com. You can submit your work in jpeg format by email by January 31th 2010.
The estimated date for the Open House Show/Event is Saturday February 27th.
Now, what is this?
Take our home made quiz:

a) a new SDOT 3D signage for drivers to avoid collisions with houses
b) a super creative crew doubling in some sculpture work while waiting for the day to be over (it is supposed to be a giraffe, but the head and neck are still missing)
c) this is what happens when you take your house for a walk.
Look below for an answer.
Here are some helpful dictionary definitions:
_____________________________________________________________________________________
More from our kick-off party: Projection photo by Todd Jannausch
I just received this photo of our upstairs video installation from Todd. I am happy he took the picture and I can share it here. Since I don't have my own projector yet (I had to borrow the whole set up for the party - thanks Josh) I cannot easily recreate the installation.
I am trying to figure out how to get my hands on some used digital projector (without spending tons of money - that's the hard part) - if anyone has a lead or idea please let me know.
_____________________________________________________________________________________
DECEMBER 01 2009 - Report After Party: After Party Report
while our dancing shoes are resting
First of all Thank You! to everybody that came and made this a really fun party. It was AWESOME - just ask Blake. For those who missed it here is a summary: we had projections going - home-made super 8 animations upstairs, entropy and people doing blurry tricks on motorcycles downstairs, great artwork that people brought, and a performance of live band that assembled on the spot. I am a little bummed I didn't managed to record the projections and performance (it was my seven year old Blake's first show as a base player) - but I was too busy being a hostess and saying hellos and goodbyes and, I must admit, dancing. I will be getting some party pics next week from a couple of people that took pictures during the event. For now here are some after party pictures.
Images from top left clockwise: (by-now infamous) carbonized waffles by Scott Hotchkiss, egg-shaker by Kim Haworth, Chuck by Glenn Herlihy, photo-print by Erin Shafkind, photo by Jason Hirata, music poster for Ryan Purcel, Frog Prince collage painting by Stephan Knorr, birthday card-print by Claire Cowie
middle: a very useful gift from Dona and David :)
For those who couldn't make it - you can come by and check out the space, the artwork will be hanging for another week or so and our doors are always open - when we are here - so please call or email before you come.

My thanks also goes to Scott and Janel - who helped to make all this possible - for juggling video production (thanks Brad for being our 24 hour tech support), cooking butternut squash chili and making 75 cupcakes (73 of those got eaten and to the delight of my boys 2 were still left over the next morning).
And last but not least I am thankful for our makeshift, but nevertheless fancy, railing for possibly saving many lives that night.
Still on view is also Entropy:



and Teapot Costelation:

See you next time!
_____________________________________________________________________________________
NOVEMBER 28 09 - kick off PARTY!
plus FAST ACTING FORMULAS show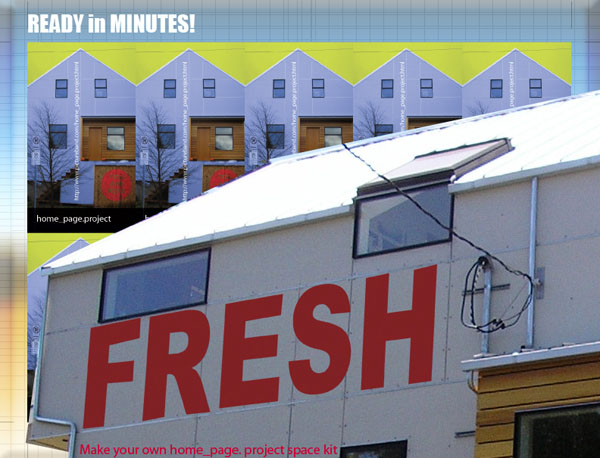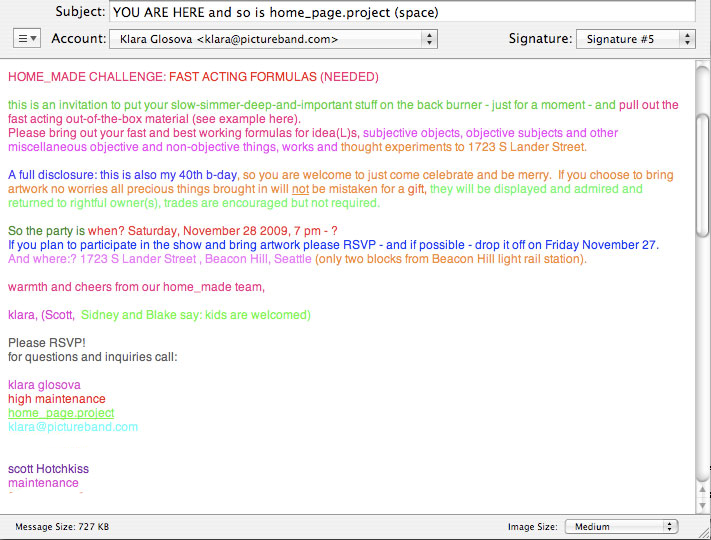 Save the date: SATURDAY November 28, starts at 7pm - ends?
1723 S Lander Street
_____________________________________________________________________________________
October 09 - updates
It is official: I made the DOT ON THE MAP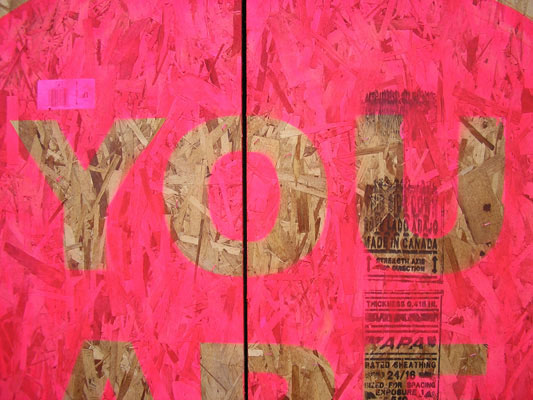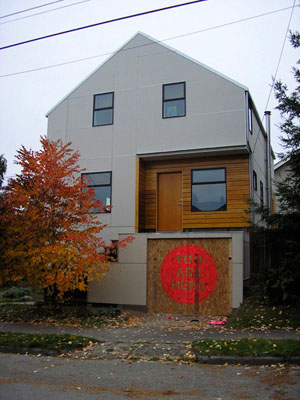 ...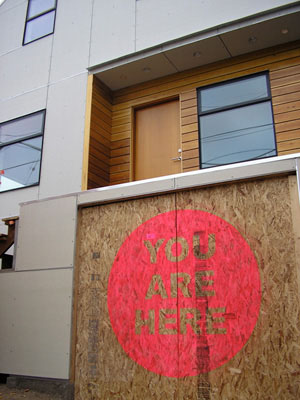 Looking forward towards 2010: projected launch of the home page project! Give me a shout if you want to participate/collaborate.
----------------------------------------------------------------------------------
brainstorming and talks about collaboration w ARTS CORPS
A couple of weeks ago I met with Lara Davis and Lauren Atkinson and we talked about cooperation on the home_page.project. I am very excited about this, I have worked with them at Kimball Elementary and they are my favorite arts organization connecting practicing artists across all disciplines with kids - they will go anywhere kids need more art (=many places). Lauren mentioned the upcoming show at the Frye: Tim Rollins and Kids of Survival (K.O.S.) - as something to think about and get inspired by. Having a couple of my own I think it would be great to include kids in the home_project.experiment.
--------------------------------------------------------------------------------------=
LIMITS and BOUNDARIES: an idea for a show
I want to curate a show about "Limits and Boundaries". It will explore artist's take on dealing with limitations, something many people are experiencing these days, mainly on economic and material levels. But those levels affect other realms and cause adjustment of ideas and thoughts. While the concept of limits might not be one of the most popular in the history of humankind (at least not in our western civilization where we think we would love to keep expanding indefinitely), in my mind limits and boundaries are not necessarily a negative thing - they can be freeing and liberating as well as grounding. They bring people down to earth and make them work and create within real not just imaginary parameters and, I should add, sometimes produce real as opposed to imaginary works.
I feel the theme is fitting, because our house is an example of creating something within a very tight set of rules and limitations and discovering a unique solution. The limits were instrumental to the creation.
Then there is the other way to look at it: transgressing, dissolving, erasing, blending boundaries. Just because - just because boundaries, limits exist (in real world or our imagination). Just because we are humans ...\\\???
What is your take on this? Email me if you would like to contribute your ideas, work or thought experiments.
____________________________________________________________________________________
speaking of thought experiments:
Food for Thought Cafe (FfTC - for short)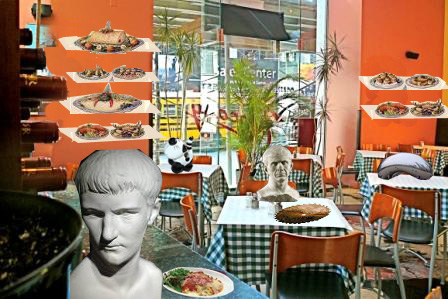 I've sent this in as a proposal for The Gift Shop - "a cascading cavalcade of adventurous, collaborative, celebratory artistic energy" - an excellent project at Henry Art Gallery organized by Matthew Offenbacher.
Whether or not it will be realized at The Gift Shop I will share my proposal here (maybe a group of artist would be into taking over a cafe for a week or so?)
I would like to turn the space into a coffee shop/ restaurant. Just like a regular coffee shop it would serve a mixture of food and art, but in this case their roles would be reversed. What would be on the menu and served at the tables would be artworks and artist created artifacts, the food would be displayed on the shelves on the walls with price tags next to it. I would like to bring attention to (and poke fun of) the idea that artists are expected to show in the coffee shops and restaurants to somehow "prove" themselves before showing at galleries/museums. I am sure I am not the only artist who did try or at least considered this route at some point in their career (it was suggested to me by a prominent gallery owner).
But I have a couple of interesting questions: how is this suppose to work for the artist? and where does this idea come from? I think the romantic idea behind the whole set up is that an unknown genius artist should place their work in a restaurant and wait for the art loving enlightened patron to eventually lift his gaze from his plate ... a) and exclaim aaah - I just discovered a great artist, I will buy his/her work so he/she can buy some food (kinda like I am eating) ... and the artist becomes (somehow - I admit I still don't see the connection) well known enough to get paid for his/her work, gets to show in galleries/museums and eureka! they all live happily ever after. ...b) fill in the details, make up your own happy ending ...c) patron looks back down, eats his food, leaves and nothing happens (but it was certainly a pleasurable dinner). - Note: I am not bitter, I like dining in nice places with art, I am just having fun with writing and imagining these scenarios.
So the second question is: where does this fairy tale that is so deeply ingrained in our collective mind come from? I could trace it to Paris circa 1900 (someone more knowledgeable in art history could correct me) - as impressionism and the other isms were being created, met and shown at cafes. So maybe from there on out, for the next hundred years plus, the cafe becomes the most logical place to discover art geniuses (remember - you are not a real artist unless you are a genius, better yet a suffering or dead genius).
So, I want to stand all these preconceived ingrained ideas on their heads, make art and do some good cooking; I expect the artists would cook the various meals on display as well as make menu artwork. Customers would be served art at their tables, they could also pick up food of the display shelves. (And I would get to wear my aprons - one for making art, one for cooking :).
---------------------------------============-------------------------------
another idea for show: My Home Is My Castle (Looking for Home Inside and Out)
Where does our sense of security, safety and privacy come from? Is there a such a place as home. If yes, where is it?
also, home made, home baked ... more on this coming up later

_______________________________________________________________

_____________________________________________________________________________________

_____________________________________________________________________________________
What, where and why about home_page.project
The main idea is to develop project space/gallery in my house on Beacon Hill, and to present a series of art shows and events relevant to our place and moment in time. I want to open the space in my home to both artists and audiences. My aim is to organize shows, readings and performances that comment on, contribute to, and experiment with, the very moment we live in. I hope to create new connections among local artists and community and to share our work and ideas with larger audiences. The very idea of having art shows/events in my home is about sharing, being local and open.
Why in my house? In my mind, blending of private and public realms, is reflective of living and working in the present moment (i.e. the ubiquitous Reality TV shows, You Tube, Blogs and general trends of decentralization). In the sea of virtual spaces and information, this project is about making a real, physical, YOU ARE HERE, dot on the map. I think of it as creating real, physical, flesh-and-bones website that exists in body as well as in spirit. If a website is my home in the virtual world, then I want my home to be a website in the real world. Just like a website I want my home to fully reflect what I do and who I am. I want to use this project as a platform for experimenting with curatorial ideas, create site specific installations and performances and bring the artwork out of established venues in to the neighborhood where I live.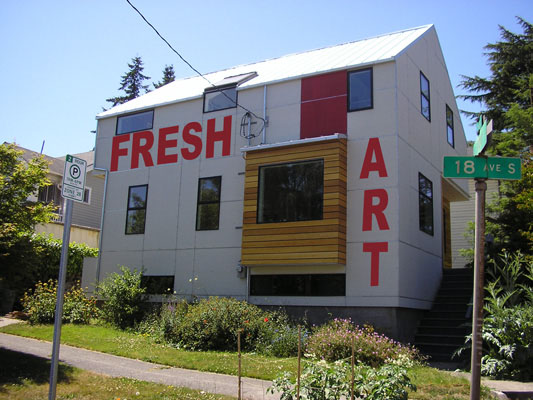 a cherry on top: on my recent road trip I got inspired by a huge FRESH CHERRIES sign in eastern Washington. The letters in the photo are just a mock-up, but I plan to make it real.
_____________________________________________________________________________________
Interior Spaces
Here are some pics of the interior spaces (notice I have cleaned up). More info about the house can be found on
archiweb.cz
- go to: -->places-->america-->usa-->Seattle. Direct link is
here
(warning - text in czech!). Email me if you want to come for a home visit.
______________________________________________________________________________________